Race Pics - The Mud Run - Boston, NY 8/3/09
VTFU
Pre-Race
-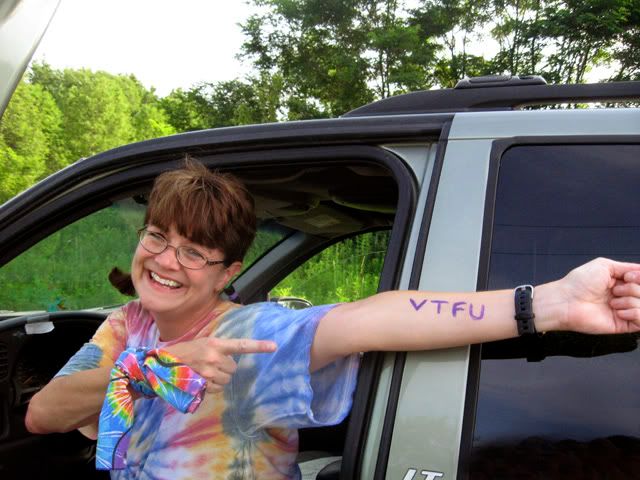 Finish !
-
VTFU
-- from TOB
-
---
Smile, breathe and go slowly 
 ~ Thich Nhat Hanh 
Addicted Member
Join Date: Feb 2007
Location: VT, USA
Posts: 21,889
Likes Earned: 28
Likes Given: 52
---
This post is not meant to offend, demean or alienate anyone in any way, and if it did so please contact me by PM so I can rectify any offense as may be fitting. The opinions stated above are the sole property of the poster and in no way represent the opinion of this website or its members.
Run,...
Rock on, TOB!!!!
---
I think I may have just gone homo for aphi!
~ Novia
Special Member
Join Date: May 2008
Location: Alden, New York
Posts: 4,018
Likes Earned: 11
Likes Given: 0
Frigging awesome "European" mud run- held in Boston NY on the first Monday of August, in the middle of nowhere! The women run first and then the men! It is billed as a 6k however it felt like 3.2. This local cult run is famous for the high school kids running in costumes and basically rolling in the mud. Did my new trail shoes up in pure sodden style! Add to the fun, this was the race where I cracked my left cheekbone one year ago, on a dandy faceplant as I ran downhill. I conquered that memory with this new one, woohoo!
Thanks for sharing the mud with me, runNYtrails!
Addicted Member
Join Date: May 2008
Location: central Ohio
Posts: 14,968
Likes Earned: 18
Likes Given: 35
pretty freakin' awesome!!!
---
the PRT is not somewhere to drop my morals and ethics and roll in the mud and muck and pretend those I am talking to aren't really people at all and it's alright to treat them like dirt.
Awesome!
---
"We are what we repeatedly do. Excellence, then, is not an act, but a habit."
~Aristotle
Greatness is a lot of small things done well, stacked on top of each other.
— Ray Lewis 
Addicted Member
Join Date: Jun 2007
Location: Columbus, OH
Posts: 11,855
Likes Earned: 21
Likes Given: 6
Great job TOB!
---
How to run a marathon: Step 1: You start running. There is no Step 2
- Joe
My Newest Blog
Posting Rules

You may not post new threads

You may not post replies

You may not post attachments

You may not edit your posts

---

HTML code is Off

---