Advanced Member
Join Date: Aug 2007
Location: The Far Side of Hard
Posts: 967
Likes Earned: 0
Likes Given: 0
I have my first strong case of numb hands after a long ride Sunday. My right hand is still burning, my grip is weak and I do not have good control or sense of touch with it.

Can I correct this my posture on the bike? What should I be looking for?

Would gloves help?

Do I just need to accept it as part of the road bike experience?

Thanks!
Sounds like handlebar palsy...my whole left hand went numb last summer and I couldn't brake or shift with it...

It's a waiting game...it will come back.

Mine was REALLY bad...I couldn't straighten my fingers...it took like a month and a half before I was allowed to ride on the road again...I was on the trainer all last summer!
Special Member
Join Date: Jan 2008
Location: Greater Seacoast, NH (oxymoron)
Posts: 3,677
Likes Earned: 220
Likes Given: 171
Yes - gloves help.
I'm assuming your posture is part of it. JRoden is the dude for all things cycling, but in general - make sure that your elbows aren't locked straight (you're not straining against the handlebars with your arm) ... Keep a slight crook to the elbow so your arm is fairly relaxed, and don't have a death grip on the hoods or the bars. Shift your grip from time to time, and go no-hands ans shake them out if you need to (safely, of course). If you don't use cork tape, invest in that or something similar.
Unless there's something wrong with your physiology, it shouldn't be something you have to live with. I don't wear gloves - and never have problems on long rides. The more your ride, the more you'll feel confidence in balance - and keeping your "core" centered on the bike, so you don't need to feel so tied to controlling the bike with your arms.
Also - if your bike doesn't fit well (or you haven't been well-fitted to your bike) - you may definitely have issues.
See this thread for more on positioning on the bike. Many others here as well!
https://www.kickrunners.com/forum/showthread.php?t=30731
For me it was a case of someone not tightening my handlebars all the way...
I hit a hard set of RR tracks day 1 of BRAG and down the bars went, putting pressure on a point, causing the palsy...I had a claw hand for way too long
My hands acted up yesterday on my long ride thanks to a rough road. I think all of the vibrations caused the problem...
I get this when I ride on the road, too. Even short rides. THey feel numb/tingly like they are falling asleep.

No idea how to fix it.
Yes, get a pair of cycling gloves, shift your hands around on the bars from time to time (tops, hoods, drops), and have your fit checked. This should not be something you need to live with.

Victor
Sorry to repost these pictures again, but if you ride with your body weight resting on locked arms, you will get numb hands, crash more often, get neck pain and a sore croth from riding. Work and keeing the elbows bent and support your weight with your feet, so it moves you down the road, heres two examples of bad form and 2 OK form: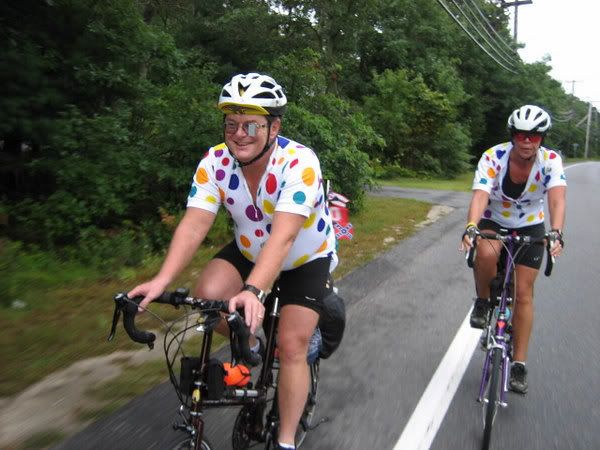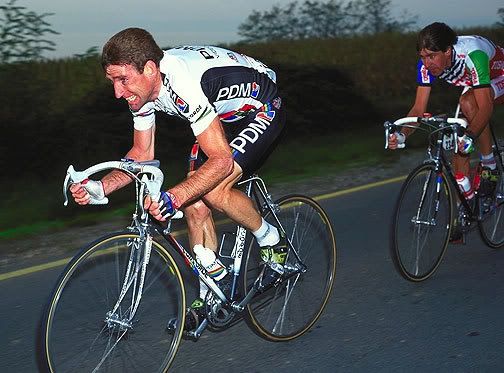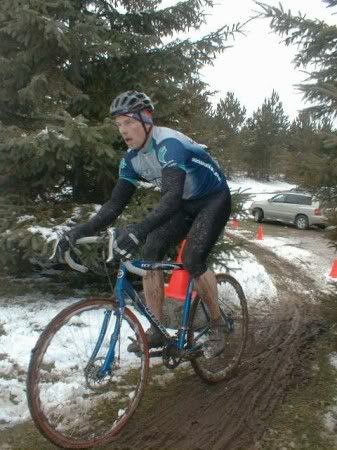 Advanced Member
Join Date: Dec 2007
Location: Frisco, TX (DFW)
Posts: 596
Likes Earned: 0
Likes Given: 0
Thanks, JR. I'm very visually oriented and seeing the pics really makes sense. I've been fighting the same thing for months now. Next ride, I'll try the new positioning.

BTW, that last pic looks downright miserable. The weather, that is.
That's cyclocross racing, last race of the season for me a while back. I live for that stuff.

You can check your position by using store windows, it's a good habit.
Advanced Member
Join Date: Aug 2007
Location: The Far Side of Hard
Posts: 967
Likes Earned: 0
Likes Given: 0
Thanks everyone! Purchased gloves, looked at jel wrap for beneath the tape but did not buy. I will also have the fit of the bike checked to see if the stem needs shortened. I was in the drop bars most of the ride. "Claw hand" is very descriptive. I had to left hand start the car all day. Not fun!
I need to try and find some gloves that fit well. The last ones I tried were too tight across the hand and ended up making the problem worse.

JR, my arms aren't that bent when I ride, but they are definitely not locked. I have to really focus on that, tho, or they end up locked.
Posting Rules

You may not post new threads

You may not post replies

You may not post attachments

You may not edit your posts

---

HTML code is Off

---