Addicted Member
Join Date: Jun 2007
Location: New Jersey
Posts: 10,885
Likes Earned: 49
Likes Given: 1
Omaha Marathon, Sun Sep 20 2015
---
On Sun Sep 20 2015, I ran the Omaha Marathon in Omaha, Nebraska. Nebraska became my 32nd state, on my quest to run a marathon in all 50 states. It's been nearly 10 years since my first marathon in Chicago, in October 2005. I'm very happy to still be healthy enough to keep this journey going.
I was traveling to this race alone, which is something I've certainly done numerous times by now. I arrived in Omaha a little after noon on Saturday. I grabbed some lunch, picked up my race packet from the expo, and checked into my hotel. With time to kill, I decided to go for a short and slow warm-up run. My hotel was very close to the Missouri River, and there was a pedestrian bridge there crossing the river from Omaha into Council Bluffs, Iowa. While I obviously have not yet completed marathons in all 50 states, I have already set foot in all 50 states, mostly thanks to road trips with my parents when I was a kid, and four cross-country road trips I made with my friend Dan. He went to law school in Arizona and spent his summers in Boston and drove back-and-forth before and after each of his school years. Anyway, I think I have spent less time in Iowa up to now than in any of the other 49 states (maybe one hour total, just nicking it on one our drives). So I liked the idea of running over into Iowa. Plus, for some reason, I get a kick out of crossing state lines on foot. So my little 2 mile run took me into Iowa and back, and increased my total time spent in Iowa by 15 minuts or so. Whooppee.
That evening there was a free pasta dinner for the runners at a bar/restaurant near the start/finish. Which also happened to be very near my hotel. Actually, it wasn't in the restaurant, but in a rather bland banquet hall next door. But that's fine. There was pasta and salad and bread, along wtih soda and water. It wasn't spectacular, but it was certainly worth the price. And being right near my hotel, it was very convenient. After eating some food, I went next door to the bar to grab a couple beers and watch a little college football. I always make sure I sample some local brews whenever I'm in a new town. Maybe I should be keeping track of how many states I've drunk local beers in. I wonder if I've accomplished it in all the 32 states I've run in so far. Hmmm...
Anyway, I didn't stay for long, and I headed back to my hotel at a reasonable hour. I made use of the hotel's hot tub to soak in some hot water and loosen the muscles a bit. And I went to bed nice and early, about 8:30p Central time.
I woke at 5:00a, two hours before the start of the race. That gave me plenty of time to get ready and make my way outside and across a parking lot to the start line, just outside of TD Ameritrade Park, the home of the NCAA College World Series. The finish line would be inside the park, which is pretty cool. Other than this tiny diversion at the end, the route would be a complete out-and-back, running along the same roads and trails the whole way.
The weather was fairly nice for a run. The temp wouldn't get much above 60, but it was bright and sunny. I always prefer clouds on long runs, as the sun can wear me down even on a cool day. But since it wasn't warm, I wasn't going to complain. I was expecting to finish somewhere around 4 and a half hours. That would be faster than
my last marathon in Kalamazoo
, but slower than all my others. Based on my level of training, or lack thereof, plus my ever-advancing age, this seemed like the proper expectation.
As the race started off, I tried to fall into a groove around a 9:30 per mile pace. However, I ended up running next to a fellow 50 Stater early on. He noticed my 50 Stater shirt, which often seems to be a good conversation piece during these races. This gentleman was running slightly faster than I originally intended to go, but the pace still felt okay, so I went with it. We averaged about 9:15 for the first 10 miles or so, going as fast as 9:05 in Mile 8. Along the way, we picked up a few more 50 Staters, and we all passed the time chatting about various marathons in various states around the country. It definitely helped the miles go by quicker. At one point, there were 5 of us running together. However, at a water station some time after Mile 10, we all got separated. I think a couple of the guys pulled ahead of me and a couple fell behind me. I took the opportunity to settle into a pace closer to what I felt I should be going at, which at this point was in the 9:40 range.
Both the Full Marathon and Half Marathon were out-and-back routes. So the Half Marathoners turned around just after Mile 6.5. As always, there were many more Half Marathoners, which means the crowd thinned out quite a bit after this. The scenery wasn't awful, but wasn't too terribly interesting either. So once I was running alone, there was a lot less to keep my mind occupied, and the miles seemed to pass much slower.
I passed the halfway point of the race in just about 2:03. This is well ahead of what I'd need for a 4:30. Probably too far ahead. The odds were good that I would slow down greatly in the second half of the race, even though I was still feeling rather good.
And yeah, I slowed down. I took a brief walk break at Mile 18, and after that I felt like I lost all of my energy. This is where my lack of long-distance training really took its toll. The last few miles were quite a slog. For the last 6 miles, I tried to walk for 0.1 miles, and then "run" to the next mile marker. One or two times I needed a little more than a 0.1 mile walk.
At Mile 26.0, we entered the ballpark. We ran to the field and made a loop of the outfield on the warning track. I eventually crossed the finish line, just barely under 4 and a half hours. According to the results, my time was 4:29:44. So despite the rough finish, I was still right about at the time I expected.
However,
the results page
lists my gun time and my chip time as nearly identical, which doesn't make sense. Less than one second difference between gun and chip time? Not possible, considering I lined up well into the middle of the start crowd. Many other runners (maybe half of them) on the results page have a similar oddity. It's not possible that half the runners started within one second of the gun. My guess is that the race had some sort of glitch with the start mechanism which affected some runners, so those runners didn't get a chip time recorded. And for some reason, they decided to reduce our gun time by about 3/4 of a second for all those people. That seems like a strange thing to do, but so be it. Chopping off 30 seconds, or even 60 seconds, on my chip time wouldn't really matter. The race was slow, but it got done. That's 32 states in the books. I'm happy to be making steady progress.
So, my impression of the race? It was fine. However, I don't really have anything glowing to say about it either. There weren't any major problems, but there really wasn't anything about it to make it stand out. I guess my biggest complaint is that we spent a good portion of the race running on concrete, not asphalt, which is less enjoyable for the joints. I certainly wouldn't recommend that someone travel a long way to run this race unless they're trying to check Nebraska off their list. If that's the case, then by all means, this race will suffice. I can't imagine that anyone from the race committee will ever ask to quote me for advertising for future years. "This race will suffice" is not exactly advertising material...
Anyway, after the race, I headed back to my hotel for a brief nap, and then I cleaned up and hit a couple sports bars around town to watch NFL games. I was quite tired, so again I called it a night very early. My flight home wasn't until Monday afternoon, so after I checked out of my hotel Monday morning, I took about a 45-minute drive down to Lincoln, just to check out the state capitol and the University of Nebraska. I was hoping that I could get into Memorial Field and see it from the inside, but no such luck. (All the gates were locked). Eventually I headed back to Omaha and flew home. So despite a (typically) long Race Report, there wasn't really a whole lot interesting to say about my stay in Nebraska. The important thing is it got done.
And now a bunch of pictures:
Addicted Member
Join Date: Jun 2007
Location: New Jersey
Posts: 10,885
Likes Earned: 49
Likes Given: 1
Start crowd before the race: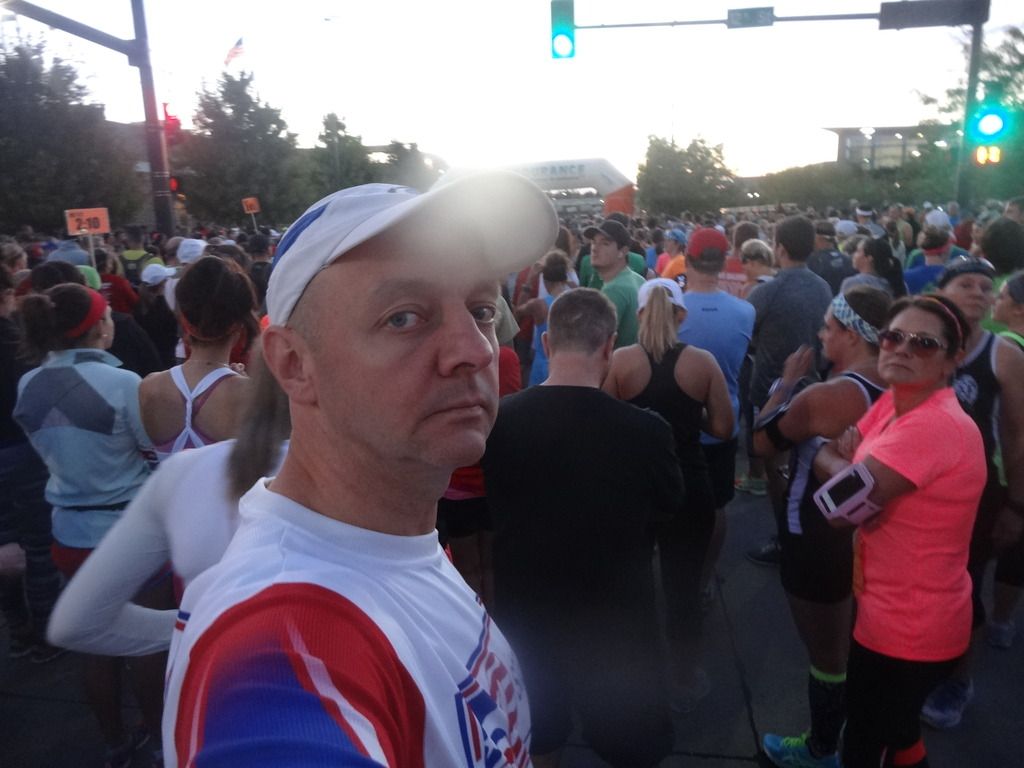 TD Ameritrade Park, home of the NCAA College World Series: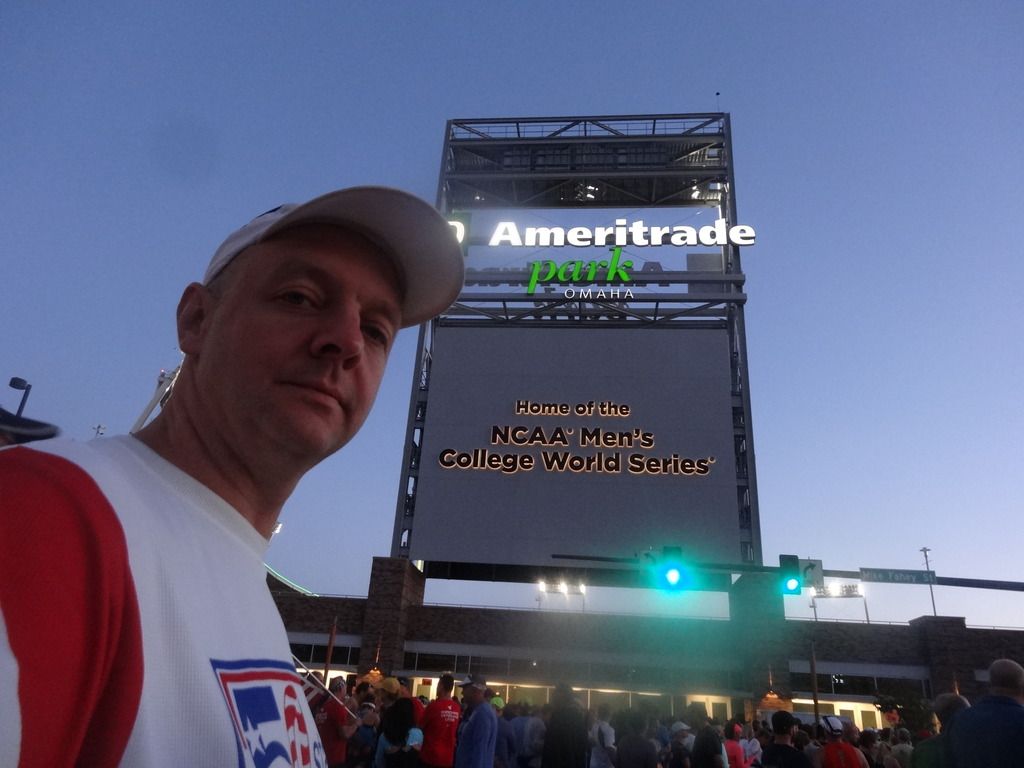 Crossing the start line:
I think I have that red shirt! It's from the 2007 Vermont City Marathon. How random is that?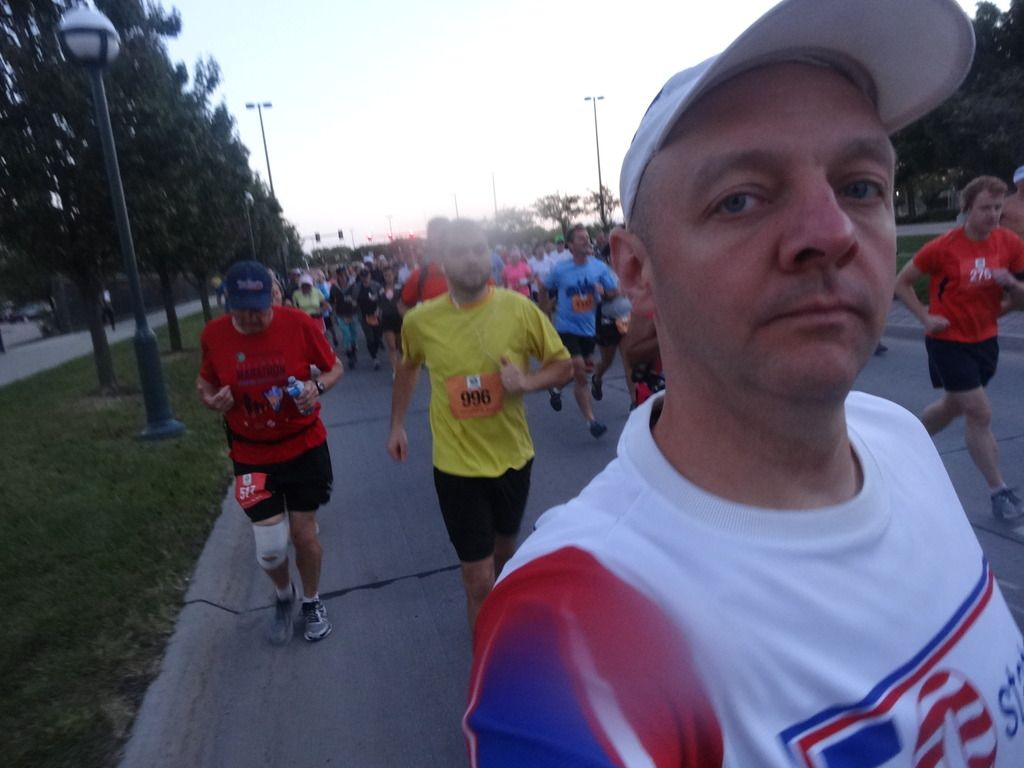 Downtown Omaha: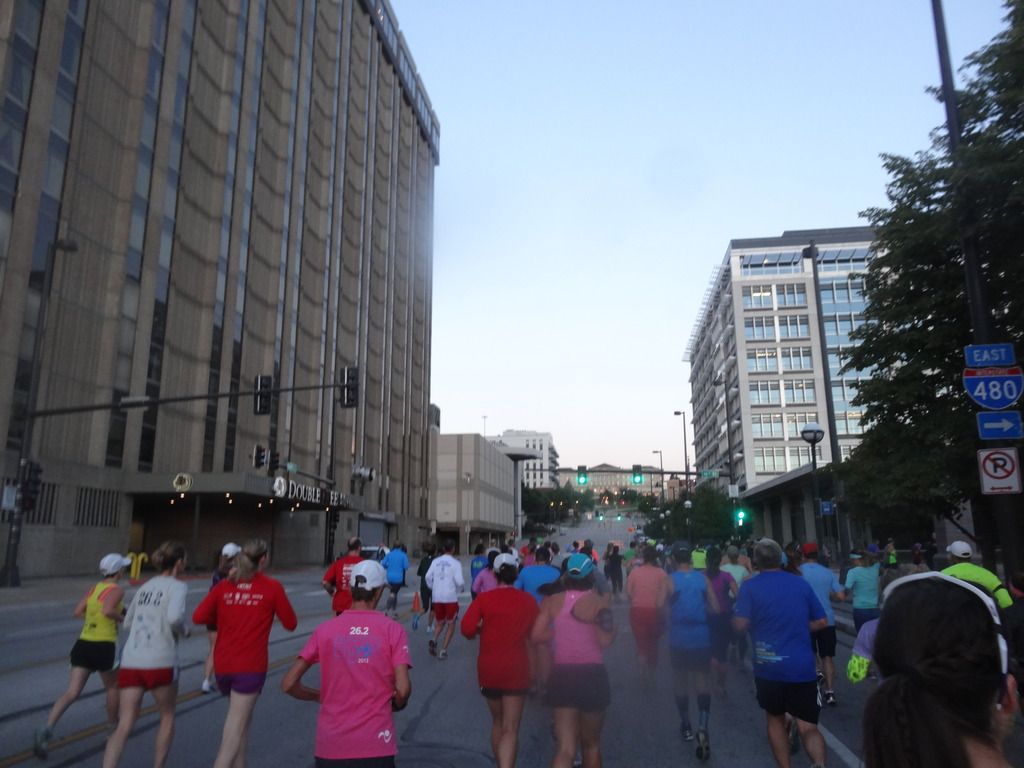 Addicted Member
Join Date: Jun 2007
Location: New Jersey
Posts: 10,885
Likes Earned: 49
Likes Given: 1
A bright and sunny day: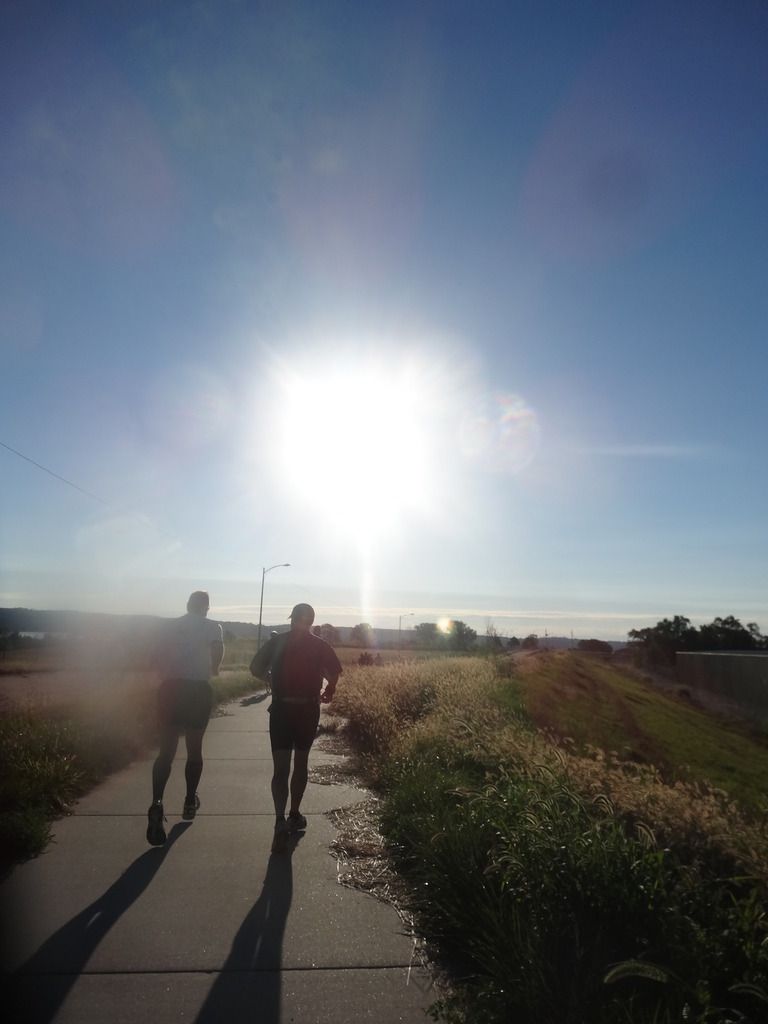 I took a few videos, as I've been doing recently. Unfortunately, this first one at about Mile 10.5 has poor audio quality:
Video #1
The turnaround point of the marathon. Halfway done: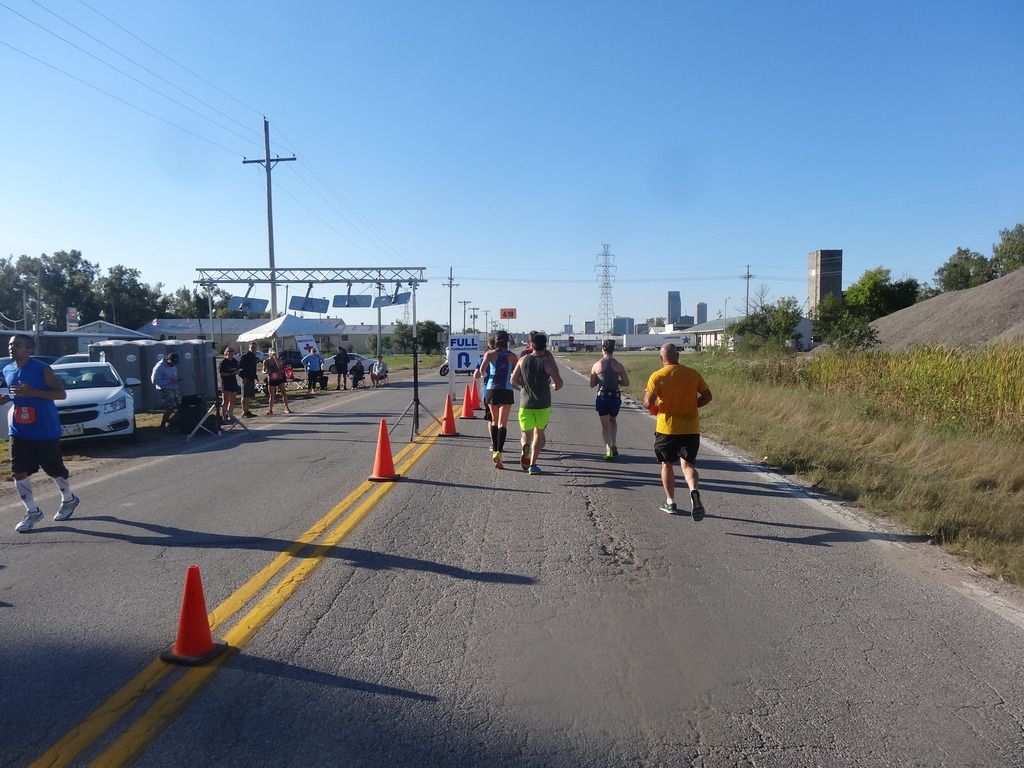 Better audio quality here. My comments just after the halfway point:
Video #2
A crowd of runners and a USA flag: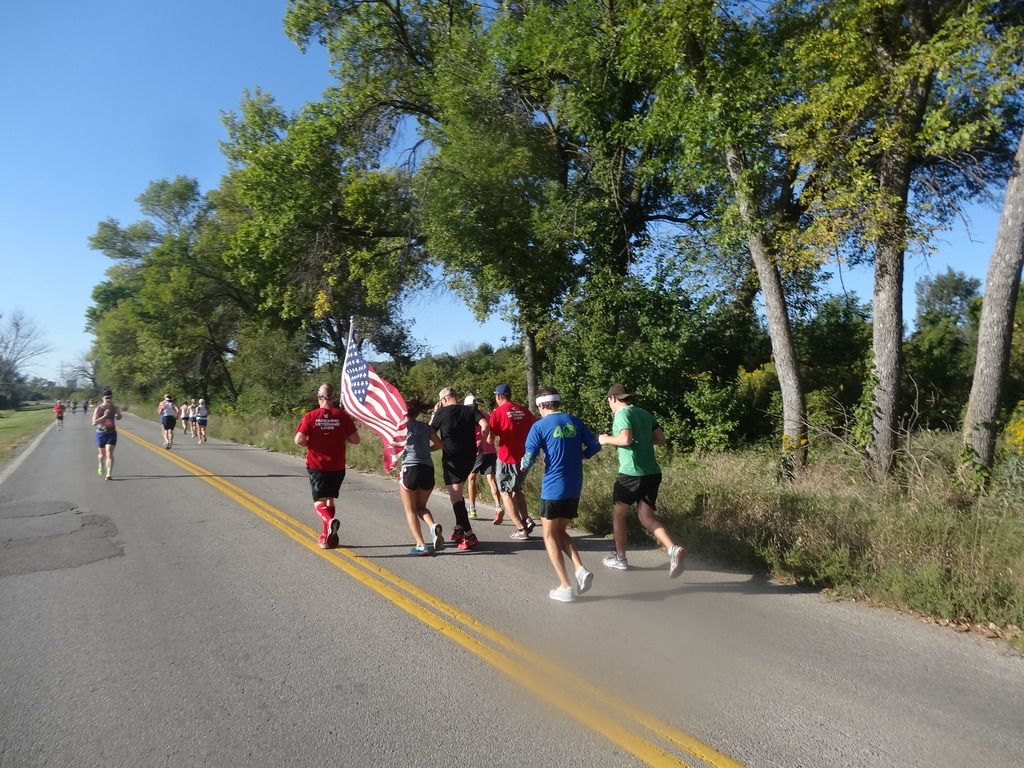 Addicted Member
Join Date: Jun 2007
Location: New Jersey
Posts: 10,885
Likes Earned: 49
Likes Given: 1
That's Iowa across the water: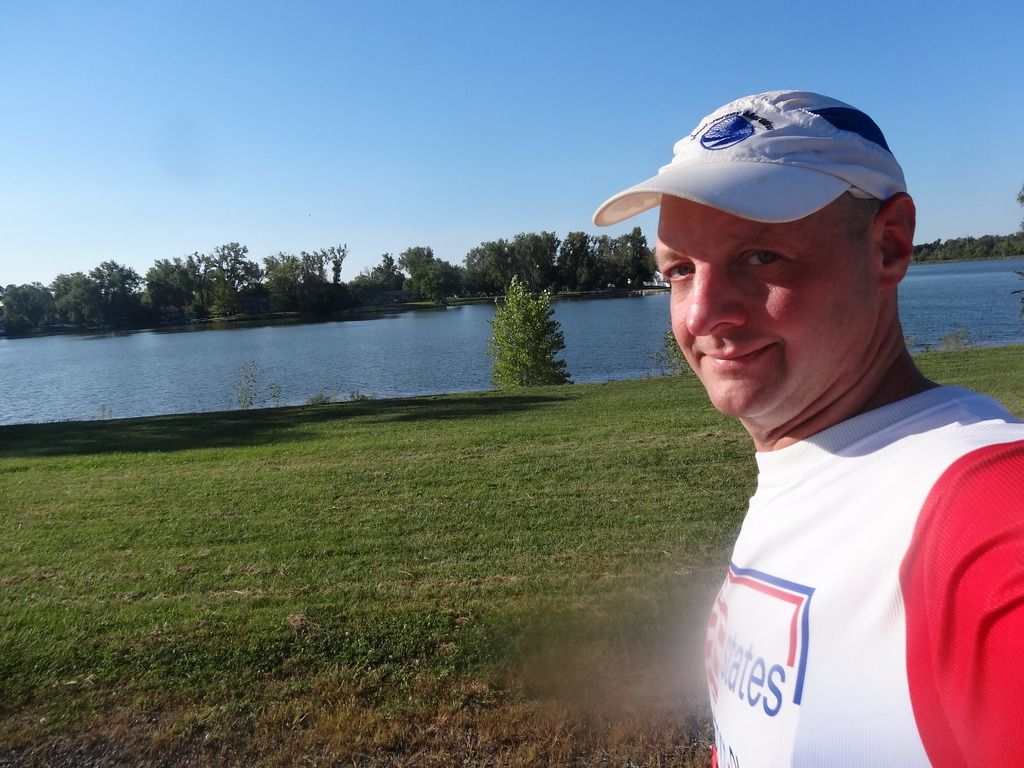 Mile 16: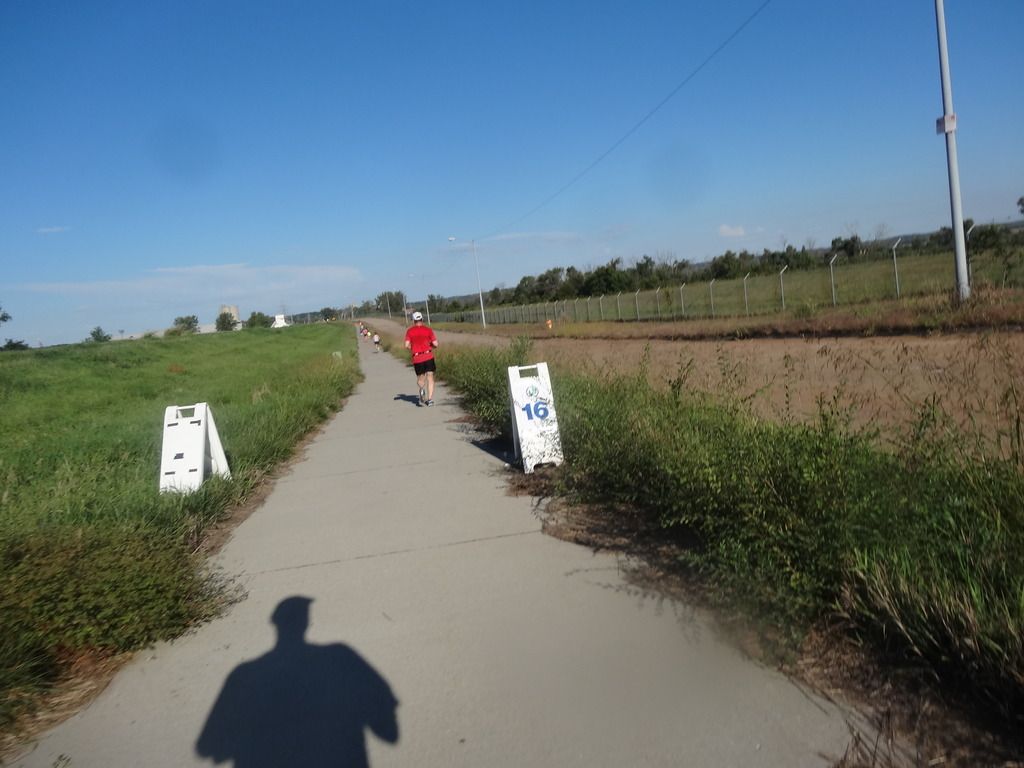 Another video, around Mile 20. I'm getting quite tired here:
Video #3
Heading back towards downtown: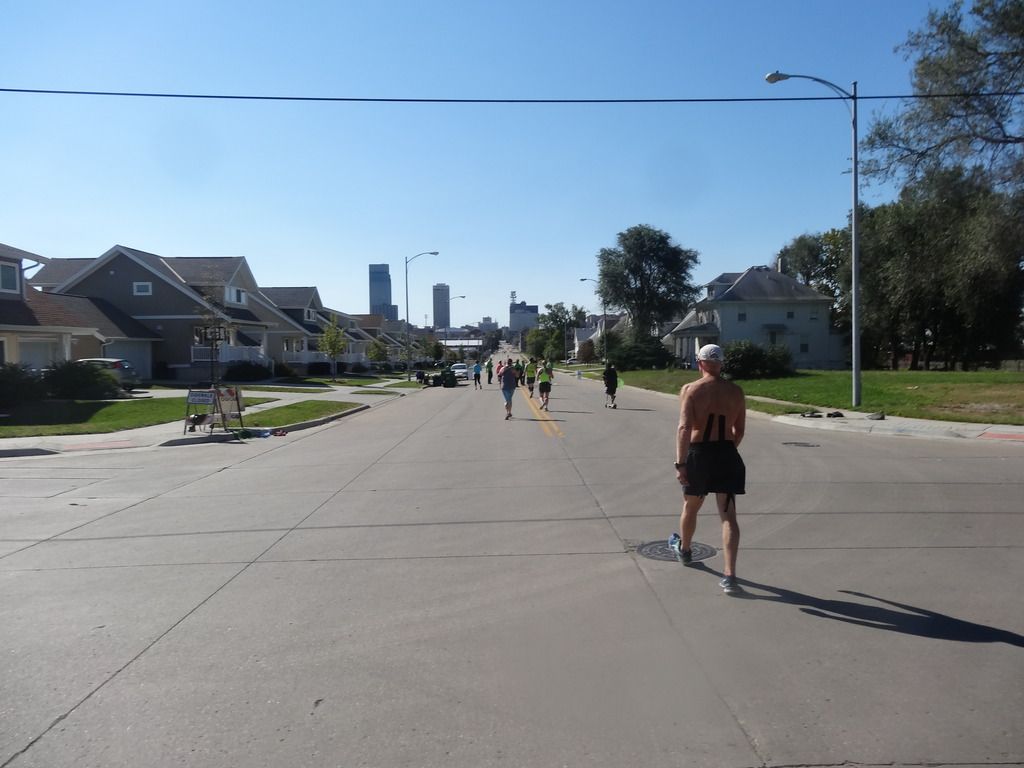 There's my hotel, around Mile 25.5. Tough to resist stopping off for a nap: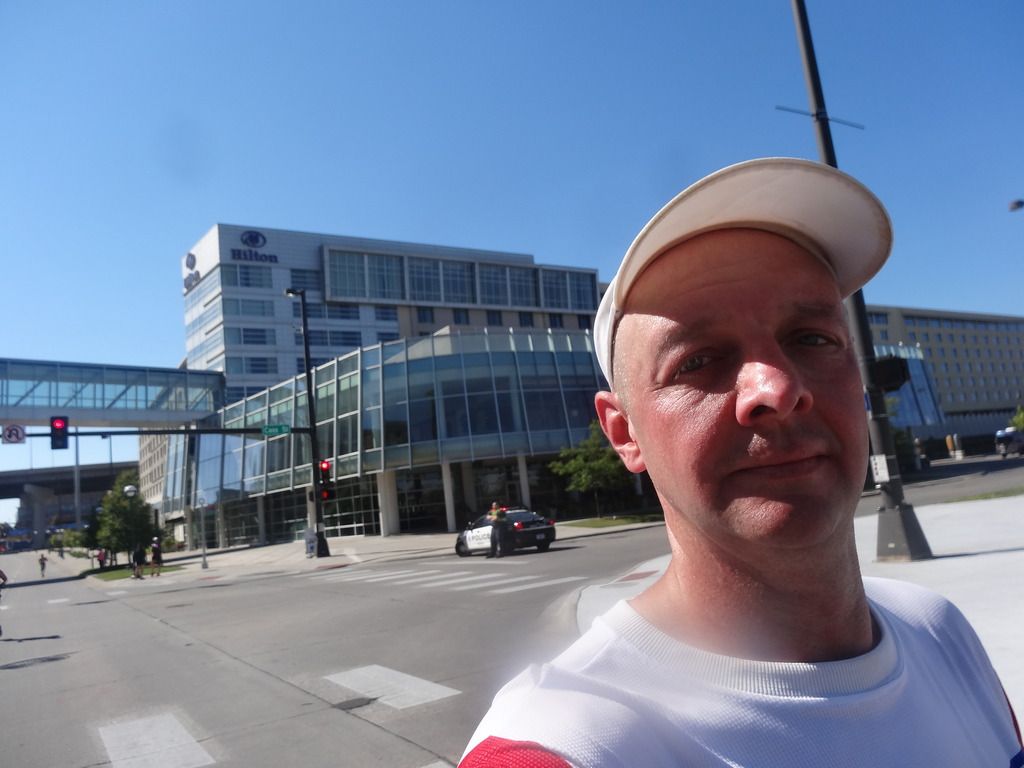 Addicted Member
Join Date: Jun 2007
Location: New Jersey
Posts: 10,885
Likes Earned: 49
Likes Given: 1
Heading into the ballpark: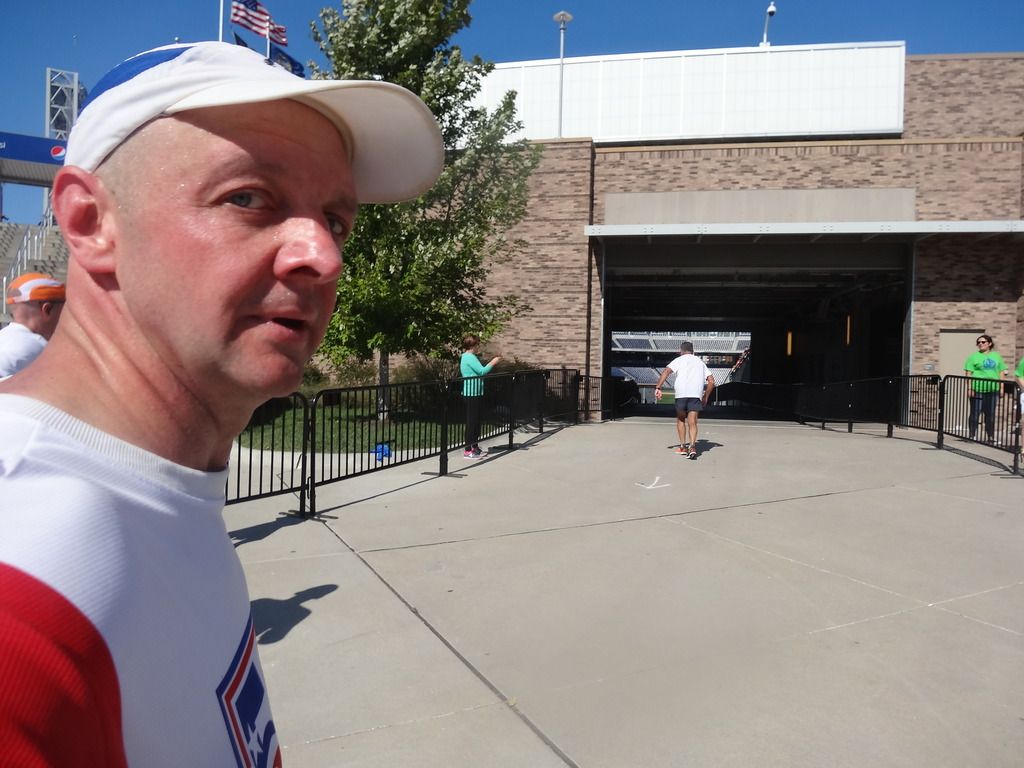 Heading around the field:
There's a camera up ahead filming the runners, and showing it on the big screen here: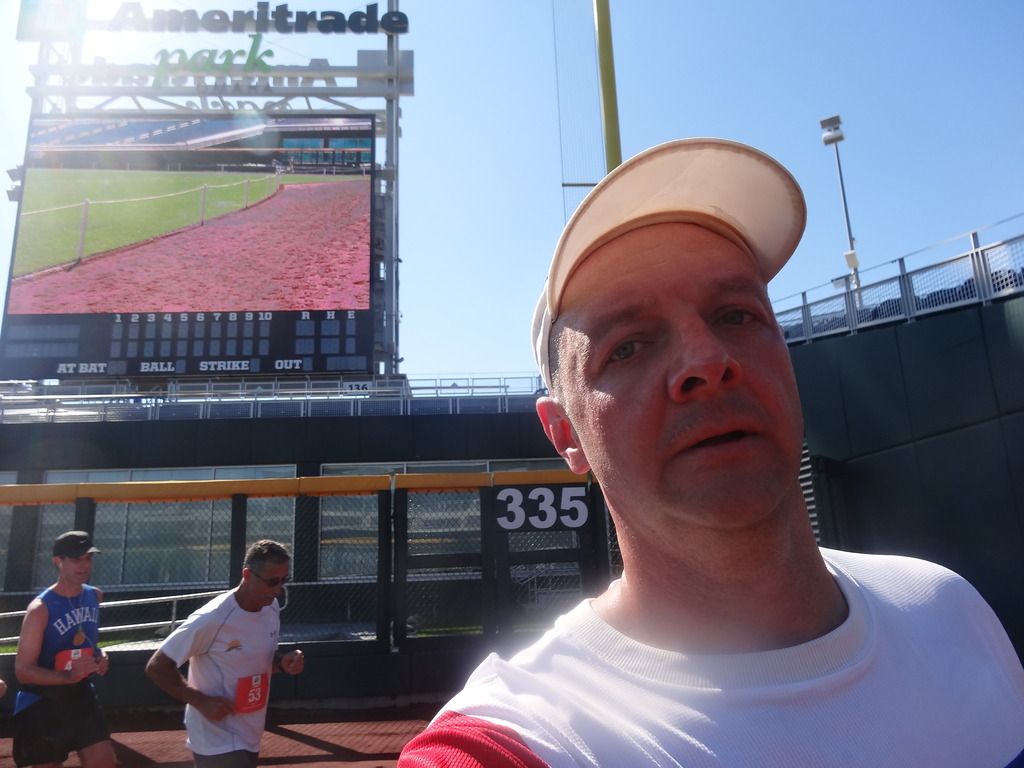 Can I take a picture of myself on the screen? I think I got it here!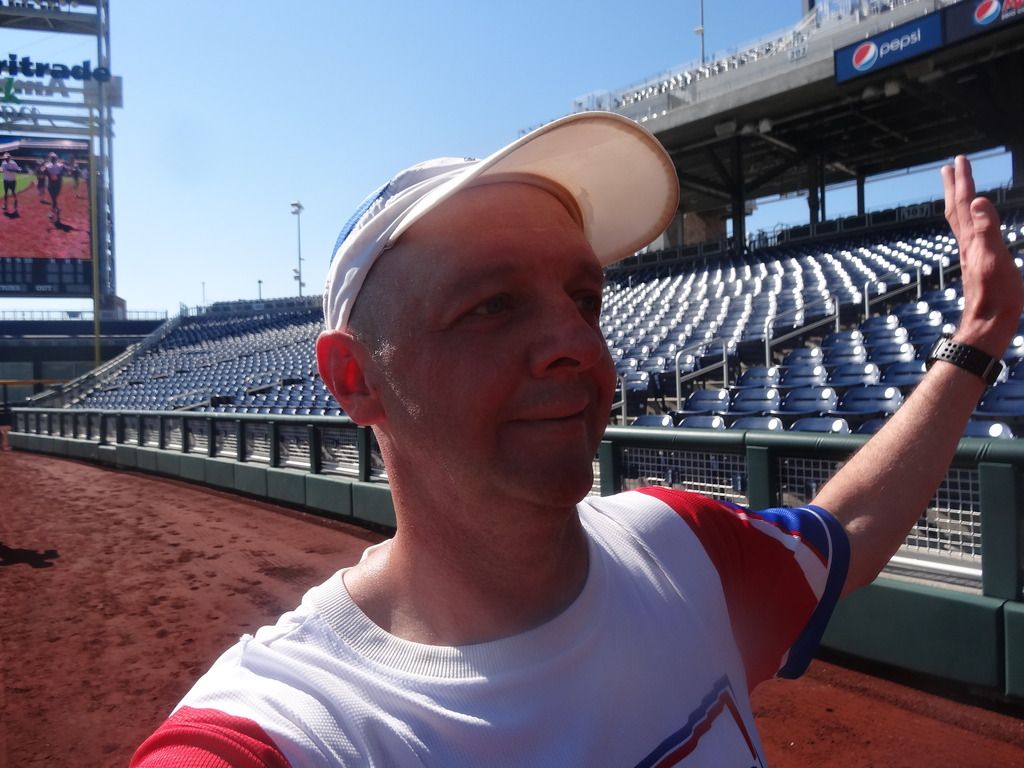 Addicted Member
Join Date: Jun 2007
Location: New Jersey
Posts: 10,885
Likes Earned: 49
Likes Given: 1
Still running around the field: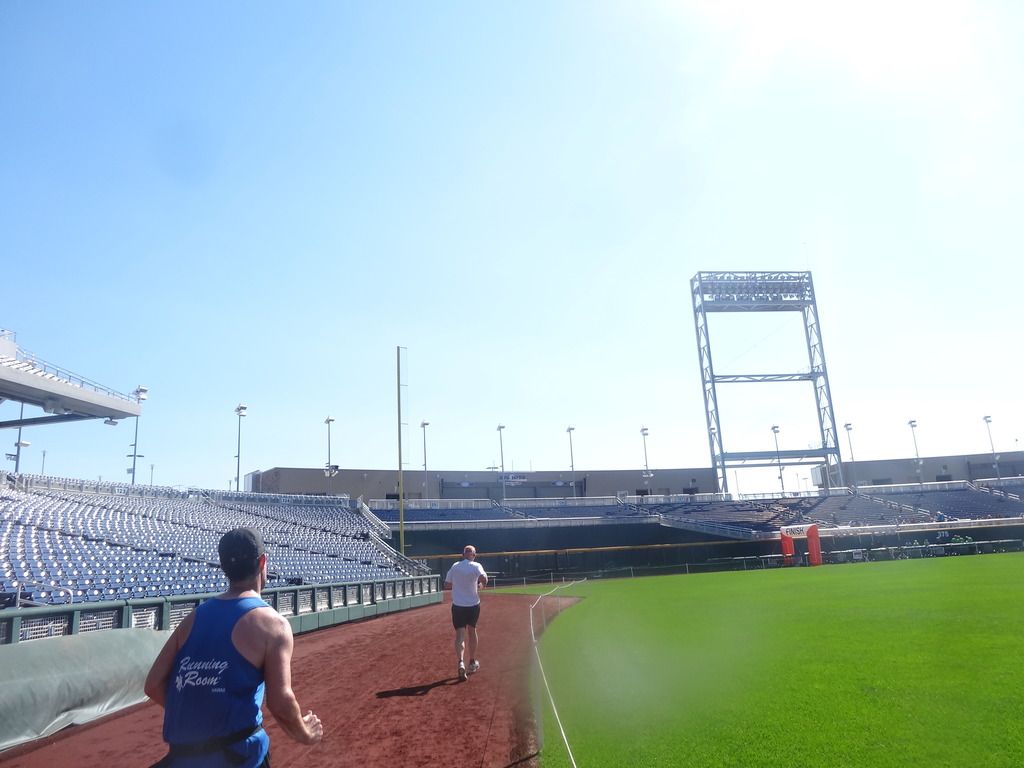 Finally, there's the finish line: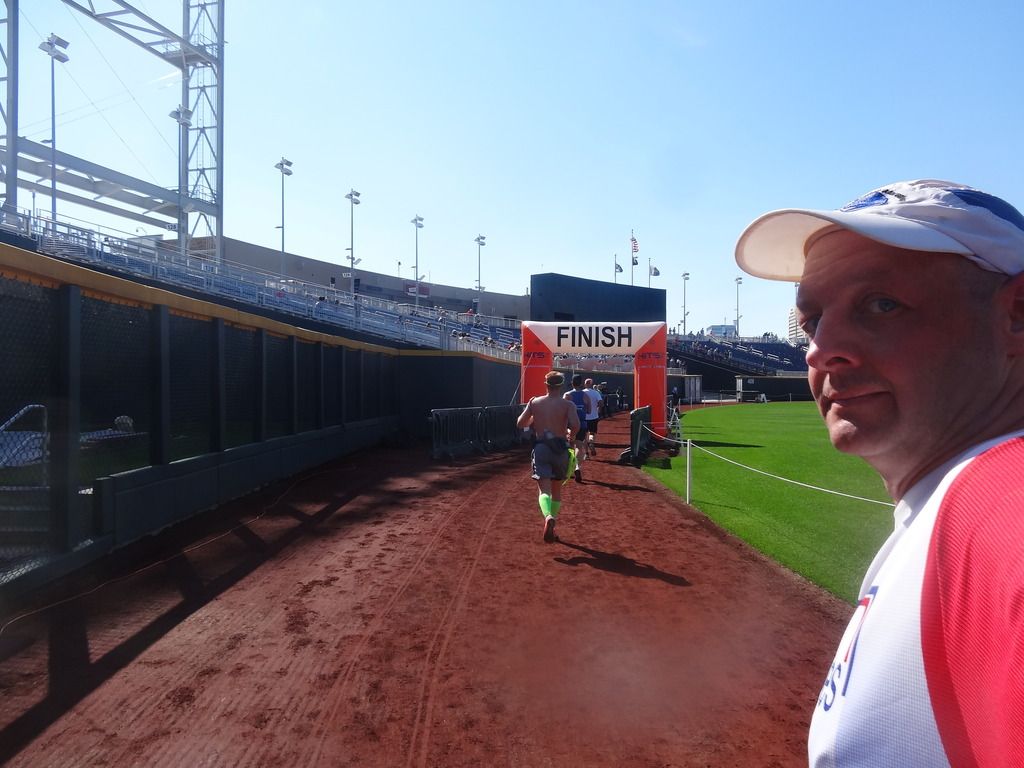 It wasn't fast, but state #32 is in the books: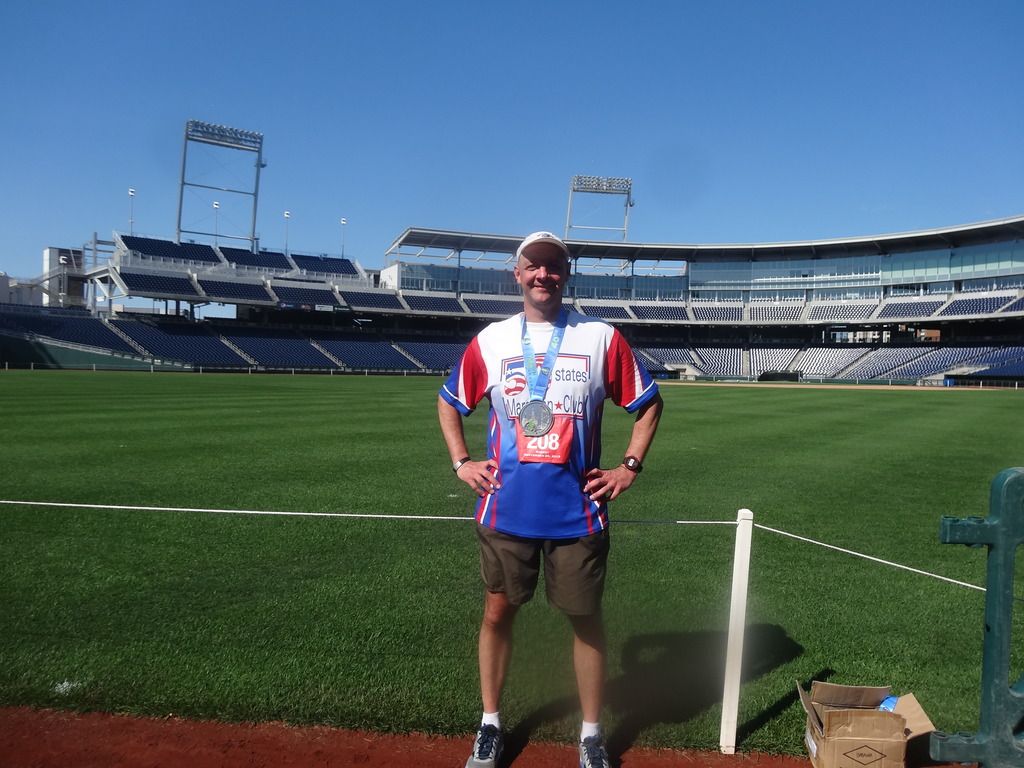 And lastly, here are some of my thoughts immediately after the race:
Video #4
.
Nice work, Bob. I like your picture of the picture on the board. Quick thinking!
nicely do ne!! you are a machine!!
Congrats, Bob! That's remarkable that you finished so close to your predicted time despite the uneven pacing.
I like the multi-state pic.
Posting Rules

You may not post new threads

You may not post replies

You may not post attachments

You may not edit your posts

---

HTML code is Off

---