The first thing I did to alienate the 20 or so club members on our trip from DFW to Portland was get a first class seat, so they could all file past me on their way to coach and make snide remarks.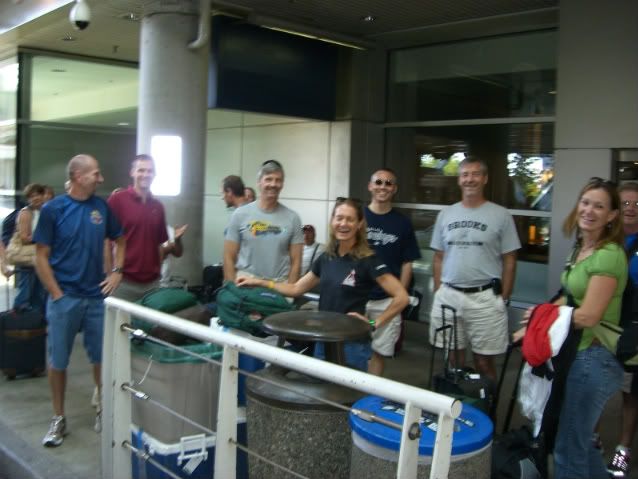 Here we are while we are all friends and before they learned of the seating arrangements.
But it's a long flight and I felt like drinking Bloody Mary's. So we arrived in Portland on Thursday and there is nothing to do for a full day until the race starts. After dumping our stuff in the hotel, we headed off to lunch at a nearby Applebee's.
But I didn't eat with my teammates because I had the good fortune to meet Sans Souci, who was nice enough to drive over to say hello. This is the first time we have ever met, although we have been friends on the running forums for quite some time. She has spent the summer staying with all kinds of people on the forum, SeeMom, Choovie, Mariposai, etc. and all of them raved about how wonderful she is. Frankly, I didn't see what all the fuss was about. All she did during lunch was riley about the heat, riley about the bad carrots and so on. What a downer.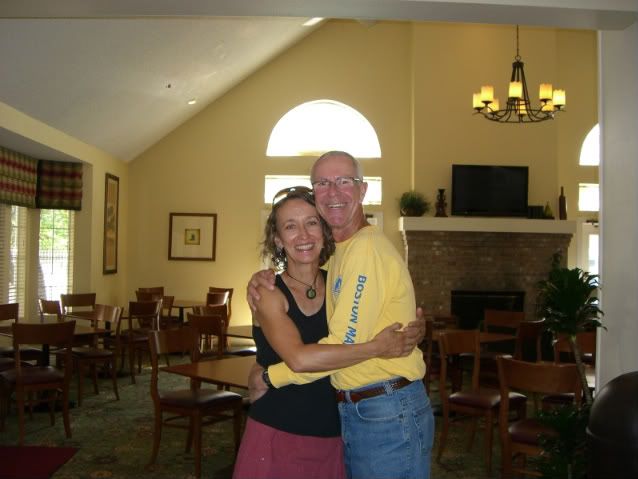 Just kidding. We had a great lunch and I was so happy to meet her. She even brought a gift for me, a vegan cookbook and it is terrific. It was so cool to get all excited with her about edamame salad. And nobody told me she has the most beautiful eyes. Here I am in the above pic trying to make out with her in the hotel lobby.
Okay, SS has to leave so I head back to the hotel and there is still nothing to do. The guys in charge of food go off to the Safeway to "stock up" on what is needed, or at least what they thought was needed. I learned later I should have gone with them. I found a couch and read Stieg Larsson's "The Girl Who Played with Fire." But first I explored our little suite. Two bedrooms, one up, one down, one queen bed in each. I timidly asked, "Hey, there are six of us. Where are the other four beds?" I learned that two people share each bed, one guy sleeps on the couch and the other one sleeps on the floor. Choices! I either have to sleep with some guy or sleep on the floor or a couch. Can't believe this.
Now it's dinner time and off we go to this place called "Roots" which is some sort of organic micro-brewery and restaurant. Organic things are big in the PNW although I have no idea what this means. We are seated in a back room at a bunch of small picnic tables where it appears that either beer is made or pigs are slaughtered, and the service is very slow, since in organic places everything you order has to be grown first. After a while I head off to the organic toilet and on my way I pass the organic bar where sits my buddy Winejunkie, a friend on the forums but one I have not yet met in person. He joins us in the back room and we had a great conversation and many laughs. It's like talking with Robin Williams, all energy and wit. But too much organic beer caused me to forget to take a picture of us.
Now back at the hotel, I run the risk of having to sleep in a bed with another guy, or sleep on the floor so I chose the bed. Didn't matter what I chose as I didn't sleep at all. So we all get up around 7 or so, eat breakfast in the hotel and paint the vans with silly sayings, including "Old fart with bad heart" and other witticisms designed to help me feel good about myself. Then at 1 pm it's off to Mt. Hood. We don't start until 4:15, but we get up there early to get the team picture: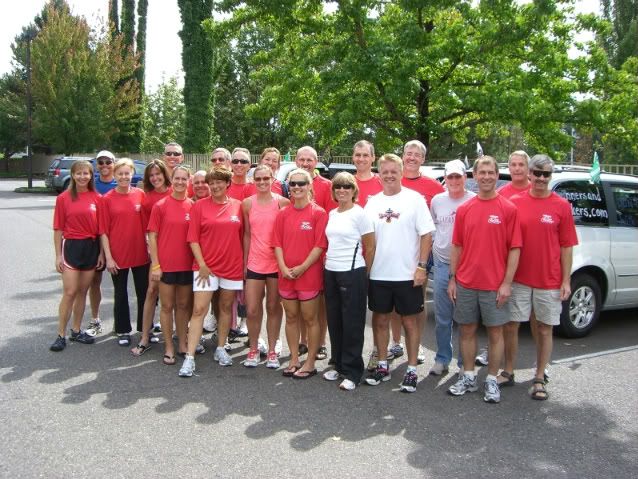 And when we get to the start, we take another one before the magnificent mountain:
Once my team's first van starts, we drive our van to the transition point, where somehow Labduck and Dove find us and come over to say hello. What fun they were to meet.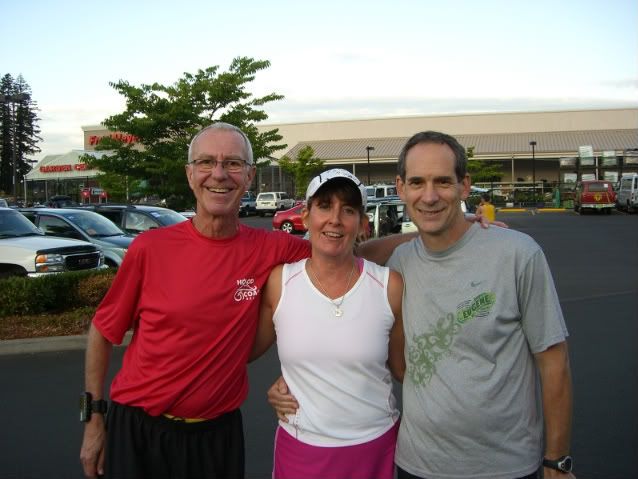 As I noted on the daily the other day, Lab became a legend when I told my van mates the story of his being outrun by a sandwich. So we got a picture there and waited for our first van to make the handoff to us. We have two teams entered, or a total of four vans, and for those of you not familiar with this event, it is 197 miles from the foot of Mt. Hood to Seaside, OR right at the ocean. Teams are 12 persons who hand off to each other so that someone is running for the team the whole way, and you finish in just over a day. I have leg 10, which means I will also run legs 22 and 34.
So I finally get to run at 11:30 pm or so, and as someone mentioned here it is a very easy leg, 6.43 miles which looks to be flat or somewhat downhill. I have run in the dark before but never raced in the dark and I have no idea what I'm doing. I have a small flashlight that works pretty well and I start out pretty well: 7:54, 7:58, 7:58 and then I hit mile 4 in the woods and some fog, run up some driveway and back down again and generally stumble around, so mile 4 is 8:48, pretty discouraging, but I get back on stride again and finish in 53:19, or 8:19 pace. I was happy with this, as I had predicted 9 minutes per mile for the whole event.
Once our van had finished with its six legs, we headed back to our hotel, where we get to feast on this delicious spaghetti dinner that van one was to have prepared for us. It's 2 in the morning and we are all tired, sweaty and grouchy. I take a quick shower and head down to the kitchen for my chow and almost get sick as I look at the pot. Whoever cooked the spaghetti must have tried to cook 2 lbs of spaghetti in about a pint of water. The pasta was all congealed and stuck to the bottom of the pan, and on the table were a jar of Prego spaghetti sauce and a plastic container of Buitoni shredded parmesan cheese. Ugh! Of course any sensible people would have just stopped at some all-night diner or fast food place and got sandwiches, but this spaghetti feast is some kind of tradition in our club, no doubt designed to keep people from coming back to HTC after one year. I struggled through a meager portion, cutting off little pieces with the edge of my spoon, throwing the portion to the back of my throat and guzzling some water, as if taking a pill.
So we all took a nap of about one hour and at 4:15 a.m. we got on the road to the next transition point to relieve van one, the magnificent spaghetti makers, and when we met up I made myself known on the subject of how to cook pasta, which I didn't shut up about for the rest of the trip. This amused my van-mates and upset the spaghetti-makers.
You get to see many different themes to the team names and bizarre writing on the vans you pass by, but our favorite was the "Chuck Norris" van, on which we saw, "If Chuck Norris is running late, time better slow the hell down," and "If you have five dollars and Chuck Norris has five dollars, Chuck Norris has more than you."
So finally at about 7 a.m. I get to run my second leg, number 22 of 36, and this one is dead uphill for 1.8 miles, then is gently downhill for the next 5 miles for a total of 6.8. When I say it is dead uphill, I mean that my face is about 18 inches from the pavement the whole way, and I am not at all used to this coming from Dallas, where I can see from my house to Waco. But I do this at an 8:50 overall pace in 1 hour and 9 seconds, just ahead of the 1 hour and 1 minute projected.
By now I was pretty tired and the rest of that day is just a blur until I get my final leg, number 34 and it should be easy, just 4.26 miles. It starts with a steep uphill of almost a mile, then is flat the rest of the way, but by the second mile I was hardly moving. Not breathing too hard, just couldn't make my legs go. It was awful. I finished in 40:41 for a 9:33 overall pace and an 8:49 pace for the entire event, my legs totaling 17.5 miles. I saw Labduck once again at a later transition and he told me he ran the final mile of his third leg at 5:45 pace! Now there is a runner.
So our final runner gets to the beach and we do that team run through the finish chute for the picture and then head to the beer area. Below is a look at the entire huge beach scene.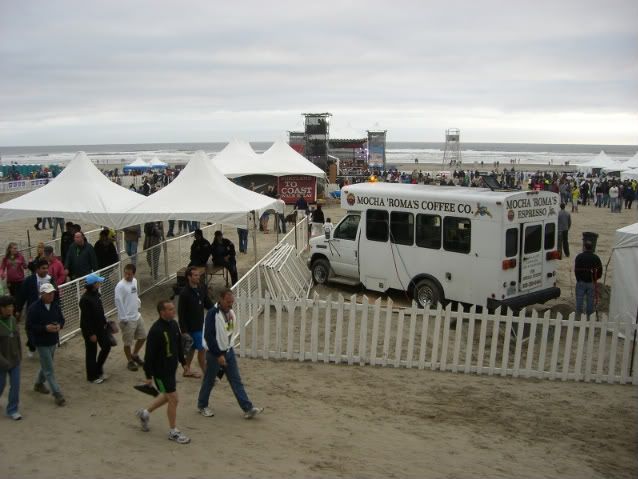 And here we are all exiting the final chute after getting the picture taken and the HTC medal:
And now I am in luck as Glidegal finally catches up to me after standing me up on Thursday night, and she introduces me to her friend Shawna who works for Nike and gets us into the Nike tent. I love the Glider and we had a lot of fun.
I drank 3 beers, talked to some people, staggered around a bit and finally made it back to my hotel, where I am a bit less nervous about my bedmate because our van captain had told me he was a "therapist" in the email he sent before the race. It wasn't until the next morning I found out he had failed to hit the space bar after the "e" and before the "r" in "therapist" as this guy was all over me. Tough to sleep when you are pinned to the mattress under an unconscious man, but I think I got in about two hours anyway.
All of a sudden it's Sunday morning and off we go back to our Portland hotel to get the rest of our luggage, get the vans washed and filled with gas and head to the airport. I have had almost no sleep in 3 days, have run 17+ miles in awful conditions, and I am hungry, PLUS I am known to be a grouchy guy anyway, so you can imagine how pissed off I was by then. One of my teammates sat directly behind me, and tapped her foot on the place where my seatbelt is anchored to the floor. This sent me through the roof for about 30 minutes until I burned her foot with a cigarette lighter, after which she popped about 11 pieces of Bazooka gum in her mouth and snapped it in my ear all the way to the airport. I hated my team by this point and couldn't wait to get on that plane and get as far away from them as I could. At this writing I have been away from them for about ten days and yet I continue to hate them more and more. Still in all, I hope to return to the club on Sunday where I expect to propose new guidelines for future HTC participation. "I get the limo, you get the van, I get a bed, you sleep on the floor, I eat a turkey sandwich, you eat spaghetti…." Never again.
Spareribs